TYRE CHANGER SA 400 F
Super automatic tyre changer - NO CONTACT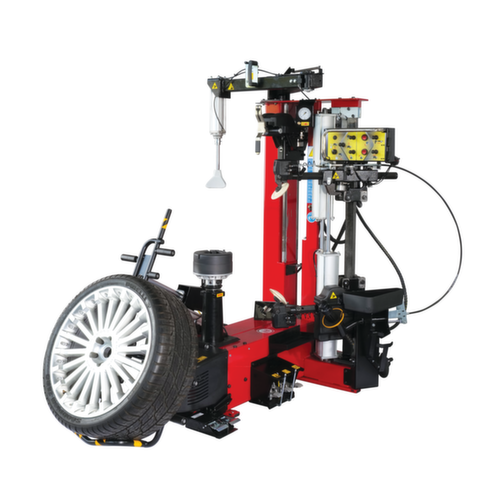 New automatic tyre changer with "leverless" technology for cars, Suvs and commercial vehicles up to 28" wheels. New assembly and disassembly
tool that never touches the rim and in its operation reduces the stress on the tire. Tool with manual rotation to speed up work
operations.
Technical solutions:
• Full-motion wheel lifter from ground to wheel in working position, stalling performed with two specular stalling discs with controlled penetration control, automatic wheel locking with effective pneumatic system, fast and simple.
• A console that contains all the work controls to allow the operator to work in maximum ergonomics and effectiveness.
All this translates into greater operating speed without risks for the operator and the rim even during the most demanding work phases, great ease of use and universality of wheel types. All for an equipment that can be exploited to 100% of its enormous potential work.
RANGE DIMENSIONI RUOTA

Diametro cerchio - Rim diameter: 13" - 28".

Diametro max pneumatico - Max tyre diameter: 1200 mm.

Larghezza max pneumatico - Max tyre width: 15".

Pneumatici trattabili - Tyre types processed: Convenzionali low profile e Run Flat - Conventional, low profile and Run Flat.

AUTOCENTRANTE

Bloccaggio - Clamping: Automatico & Pneumatico - Automatic & Pneumatic.

Motorizzazione - Drive system: Motoinverter 2 velocità - 2 speed inverter motor.

Coppia di rotazione - Rotation torque: 1100 Nm.

Velocità di rotazione - Rotation speed: 7 - 18 rpm.

STALLONATORE

Campo massimo stallonatura - Max bead-breaking range: 670 mm.

Corsa stallonatore - Bead breaker stroke: 540 mm.

Forza stallonatore - Bead breaker force: 7600 N

CARICO / SCARICO RUOTA

Azionamento - Drive: Pneumatico - Pneumatic.

Peso massimo ruota - Max wheel weight: 85 Kg.

ALIMENTAZIONE

Elettrica - 1Ph Power supply electric 1Ph: 230V - 50/60Hz

Alimentazione elettrica 1Ph alternativa - Power supply electric 1Ph (alternative): 110V - 50/60Hz

Pneumatica di esercizio - Pneumatic operating pressure: 8 bar (min).

Peso - Weight: 425 Kg.
TYRE CHANGER SA 400 F
Code:
ASM01XSXX0187
Quantity:
Availability:

not available