TYRE CHANGER SA 30 BIKE
Bike, Scooter, Go-Kart & Quad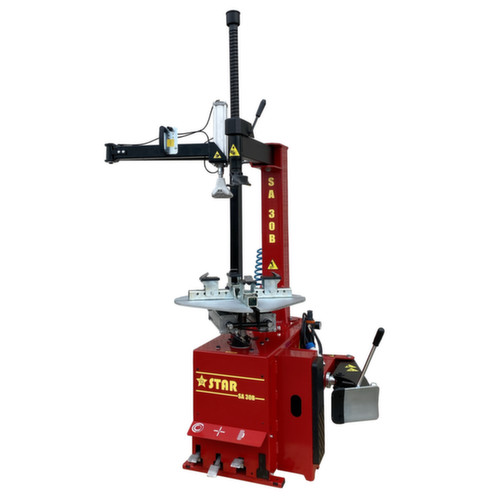 Semi-automatic tyre changer designed to operate on motorcycle, go-kart, gardening machines, scooters, quads and wheels of important dimensions. Its slender line makes it easy to handle but the structure has been designed to work on tyres with larger widths so it is very robust. SA30B is the ideal tyre changer both for workshops and for use on vans and race fields. Thanks to the traditional stall system, with specific blade for motorcycles, it adapts well to any type of tire. The self-centering plate, thanks to the new system of sleds and jaws, allows you to quickly and easily tighten wheels from 5" to 23".
TOOL POSITIONING: The horizontal positioning of the tool is obtained by means of a threaded handwheel. perating on several wheels of the same size, the initial adjustment is maintained. With the simple operation of a lever, the tool is raised in relation to the rim and the shaft is locked vertically.
SBK LOCKING SYSTEM with slides produced by laser tube to increase mechanical strength and 5 adjustment holes to improve clamping accuracy. Griffe with increased structure and plastic protections ideal for both road and off-road tires.
Traditional bead breaking system equipped with motorcycle blade.
-OPTIONAL- BPL HEEL PRESS: Adjustable in height, is limited only to the pressure phase of tire heel from above.
• Clamping capacity 5"-23"

• Max wheel diameter 1000 mm (39,5")

• Max wheel width 320 mm (12,5")

• Bead breaker force 2800 Kgf (6175 lbf)

• Turntable speed 8 rpm

• Noise level

• Working pressure 8-10 Bar (116-145 psi)

• 1-phase el. Motor 0,75 kW (1,0 Hp)

• Net weight 198 KG
TYRE CHANGER SA 30 BIKE
Plase, select:
Code:
ASM03XXNX0001
Quantity:
Availability:

not available