BALANCER SEC 3.7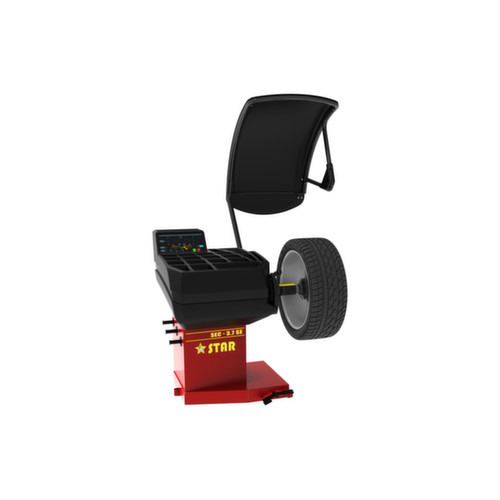 Automatic balancing with new practical and essential design. VDD Virtual Direct Drive High Speed and Maintenance-free
(Patented). Easy to lock the wheel in the correct position by means of an electromagnetic brake. SONAR LA device for automatic
wheel width measurement. Various weight positioning programs: SPLIT, OPT, ALU. Automatic probe for distance
and diameter measurement for wheels up to 28 "with LED light to illuminate the working area inside the rim. ALU-S Balancing
Mode (Tire Inner Tire Adhesive Tests) with The SPLIT program allows you to hide the weight behind the rim
• Pneumatic locking (SE Version).
• Adhesive counter-weights positioning with laser beam.
• The LA Sonar for width measurement enables an immediate entry of all necessary wheel data.
• Once the measuring launch is completed, thanks to the Automatic Approach system, the wheel automatically stops around 15° from the exact point of application of the counterweight, allowing the operator to position it correctly with a little movement.
• The automatic gauge enables detection of distance and diameter up to 28″ rims with relative activation of desired balancing program (clip-on or stick-on weights).
• Programs: ALU S - SPLIT - unbalance optimization.
• Wheel protection.
BALANCER SEC 3.7
Code:
AEQ01XSXX0063
Quantity:
Availability:

not available