New products
The state-of-art MaxiDAS® is delicately engineered and built by Autel Intelligent Tech., a scan tool...
The MaxiTPMS TS601 and 'the most' powerful in the world of diagnostic tools and TPMS...
The MaxiTPMS TS501, TPMS diagnostic tool and service specifically designed to activate each type of...
News & Events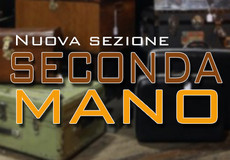 SEZIONE SECONDA MANO
Da oggi è disponibile una nuova sezione dove potrai trovare attrezzature da officina usate a...
---
Details
limited availability

SOLLEVATORE IDRAULICO A BOTTIGLIA OMCN ART. 130A Portata: 50 TAltezza (chiuso)...

€ 573,40 (IVA incl.)

---

Buy Details

limited availability

Armadietto con sportelli in vetro. DImensioni 237 x 50 x...

€ 0,00 (IVA incl.)

---

Buy Details

limited availability

Barra estensiva da 1"Lunghezza 400 mm. Larghezza 47 mm Peso 1855 g

€ 36,60 (IVA incl.)

---

Buy Details