SMONTAGOMME S70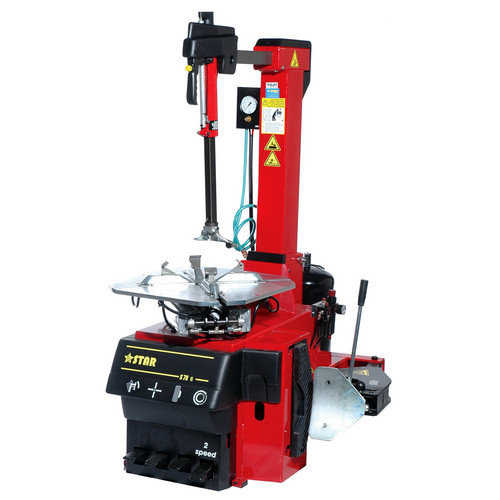 Automatic tyre changer of innovative design, specifically designed for professionals in the sector, suitable for the disassembly and assembly of wheels of passenger cars and light commercial vehicles. Without adjustments or adapters, it can lock rims from 10" to 24". Its particular sturdiness and reliability, obtained thanks to the adoption of patented technical solutions, The low ground height and double effect bead breaker cylinder make the S70 ideal for operating on particularly difficult and low-profile tyres such as runflats. Plastic protections are supplied as standard for all the elements, such as jaws, lever, bead paddle and turret, which could cause damage to the rim and, as an option, a wide range of professional tools and accessories to further facilitate the work of the operator and, consequently, improve its efficiency. Versions are available with the inflating device for tubeless tyres (t.i), with double rotation speed of the self-centering selectable via pedal (2v) and with pneumatic vertical arm (P) or manual movement.
UNIVERSAL PNEUMATIC DEVICE
(OPTIONAL): The professional tyre changer S70 is ideal to be equipped with UPH and BP, pneumatic equipment that assists the operator during the assembly and disassembly of low or particularly difficult wheels. This device adopts innovative and patented technical solutions that make it one of the most appreciated auxiliary tools on the market.

SELF-CENTERING: New system that allows to tighten rims from 10" to 24" without adjustments or adapters (10"-22" from the outside,12"-24" from the inside). The special geometries of the jaw clamping unit also allow the clamping force to be kept constant as the diameter of the rim changes.

QUICK CHANGE TURRET: Patented system of rapid change turret integrated in the vertical rod that allows a quick change of the tool without losing the original working capacity of the machine.

BEAD BREAKER: Newly developed bead breaker arm equipped with a patented mechanism that allows to obtain two different working inclinations between paddle and wheel, thus improving the accuracy of the bead breaking operation. The wheel support is also adjustable in 2 positions.
SMONTAGOMME S70
Plase, select:
Code:
ASM01XSXX0172
Quantity:
Availability:

not available